Notable relative:  Marcia came in with a fun story about her photo.  Her relative, Florence Chauncey, was the first woman to vote in a New York election once it became legal.  The wife of a local minister, she cast her vote in the morning at 6:10 a.m. on Jan. 5, 1918. Marcia brought in her collection of photos of her notable relative and had us digitize them and make reprints for her.  You can read more about her in this article.
Buckaroo Renew:  Enjoy this seeing this young man's youth restored.  Billie's dad never looked so cute.
Fun film clips of man's best friend:  I pulled in a handful of film clips from several old 8mm and 16mm films that we have transferred that all have clips of our favorite companion….dogs.  The whole segment is just 2 minutes long is sure to make you smile
Aileen amazing history: Aileen came in recently to have a record transferred to both a playable CD and also to mp3 files.  The record was of her uncle, Louis Paparello , in his Mandolin Orchestra.  Click the play symbol to hear a sample.
She also shared about some books she has written. According To Aileen: America's Ten Decades That Changed The World. A memoir of the disadvantaged immigrant: dedicated to ethnic, racial, and female equality who influenced the progress of America's greatest one hundred years. Her second book is a pleasant read of moments filled with characters that embody the good, the bad, and the evil in today's new world of uncertain living. Check out her site to read more of this fascinating client of ours.
.
Comments Off

on Interesting Projects to Inspire
---
Janet & Bruce brought in an old audio cassette that is a recording of their now deceased bird the beloved Mr. Tweet talking and singing.  He died several years ago and since then the got a new parakeet and named him Blue.  Mr. Tweet was quite a talker while Blue is pretty quiet.  The got out the cassette and played it for Blue and believe it or not Mr. Tweet has taught Blue how to talk.  Blue is sure that Mr. Tweet is the handsome gentleman bird that he sees in his mirror.  Janet and Bruce thought it was time to transfer the cassette to disc before it became unplayable. We are titling the disc "Mr. Tweet's Legacy" for that is what it is.  He can tell his story to generations of birds to come and share his personality, point of view on life and his vocabulary.  What a wonderful, heartwarming Legacy story.
Brenda brought in an audio cassette as well.  This one contained the voices of her two young daughters and a niece.  Many years ago there was a business called "Music, music, music" set up in the mall that was a mini recording studio. You could make a "professional" recording of children or adults singing.  She described that the music was piped in and each of the girls wore some large headphones while singing into the microphone.  They recorded "From A Distance" on one side of the cassette and "Everything I Do…" on the other side.  She brought it in to us so that the now adult girls, and mothers in their own right, could hear their sweet songs of innocence.
Brian brought in some reel-to-reel recordings that his parents made in 1968. They were audio "letters" to each other during the Vietnam War.  He had others that he wasn't sure what was on them.  We will call him once we get them on the player and let him know what they contain.
2016 & 2017 Memories Chronicled. Dusk has brought in all the photos and videos from all of her media sources. This includes both her husband's and her own phone files and a digital video camera.  We are pulling each year's worth of media and putting them in order on DVDs for her to preserve all the memories from.
Whomever's Legacy you want to preserve, know that Leave A Legacy has the creativity, know-how and equipment to accomplish it.
Comments Off

on Mr. Tweet's Legacy
---
We've had many more amazing projects come through our door. Let them inspire you to preserve your own memories and share them with the rest of your family this holiday season. 
1)Prisoner of war journal: I met with Scott who brought in his grandfather's handwritten and beautifully illustrated journal that he wrote in 1942-1944 while he was a POW in Germany during WWII.  His story is fascinating.  We are carefullyscanning each page and then we are going to make several duplicate copies.  He will put the original in a safety deposit box and will no longer have to worry about it being damaged further.  Extra copies of the book will be shared with other family members.  This is an example of following what we believe…that not just one person should be the keeper of all the family memories.
2)Not splitting up the photos:  Michelle has gone through a divorce and didn't want to split up the photos between her and her husband.  She is having us scan all of her photo albums, oversized photos and loose photos.  She'll give a copy to her ex, her three son's and her parents.  Through doing this Michelle was able to make sure that her ex-husband and she could separate their lives but each keep identical copies of all of the memories.
3)Not splitting up the photos and making books:  Kay's mother recently passed away and she told her siblings she knew
where to take all of the family photos.  We scanned over 1,000 photos from 9 albums. We now have instructions to layout all the photos into one book and to print and bind 8 copies.  Then each brother, sister, aunt and uncle can keep a copy of mom's family memories and they won't have to split them up.
4)Family Film Files and DVDs:  Stacy brought in her collection of family films for us to transfer.  She decided to have us transfer it in high definition.  We could either give her digital files of each film on her external hard drive or we can burn all of the captured footage to Blue-ray discs and DVDs.  She decided to get both….DVDs to watch with family over the holidays and digital files for editing and storage down the road.
5)Nixon's address on radio:  This cool historic audio came to us on 8-track.We had to repair the foil splices on two of them because age had made them brittle. Then we transferred the audio onto playable CDs.  The 8-tracks were recordings from the radio in the 70's and contained President Nixon's address to the nation to tell what happened in the Watergate scandal.
Memories make priceless gifts…..do you have memories that you'd like us to help you preserve and share with your entire family?
Why do we do this? It's our mission….to help you tell your story by converting it so you can share it.
Comments Off

on Inspiration from amazing projects that have come in
---
This was a photo taken during a photo shoot at a wedding.  They wanted  a cropped version that didn't have the gentleman at he left included.
These next two photos were restored beautifully with lots of detail and sharpness that you couldn't see in the faded original photo.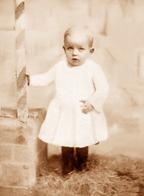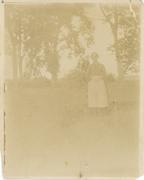 This beautiful photo had lots of detail.  they had us scan it at a high resolution and then zoom in on her rings and her necklace.
Comments Off

on Photo Restoration Examples
---
When John was 15 years old a massive earthquake hit Yellowstone National Park.  He and his parents were sleeping
in this cabin when the Earthquake hit.  In the morning, his father gave him their family 35mm camera loaded with slide film and told him to go take pictures.
The earthquake caused a landslide blocking the river. When the lake rose behind the landslide, all the cabins floated off their foundations. As the lake rose, the prevailing winds blew them east (upstream). They moved about 1 1/2 miles before the lake topped the slide and began to cut a channel. When this happened, the lake dropped and the cabins settled where they were. The photo of him in front of the cabin was two months after the earthquake and shows their cabin off of its foundation.
The National Park Service produced a video (VHS) about the event and even lists John in the credits for some of the photos shown.  When he came in to Leave A Legacy wanted to update his media so that he could share his experience with a group meeting. He brought in slides and two VHS videos.  We ultimately combined the slides and the video on to a single playable DVD that he can project at his meeting and pause for as long as needed to tell his story.
Comments Off

on Owen's Backstory: 1959 Yellowstone Earthquake
---
Rest assured, we at Leave A Legacy can transfer your Mini DVD to a full sized DVD or to digital files (usually saved as MOV, AVI or MPG on an external hard drive).  These discs were usually created on a Mini DVD video camera.  It was an advancement for video recording in that was digital instead of analog. Our first question for clients who bring or mail in these discs is, "Do you know if the discs were finalized in the camera?"  This was a new step that was required for this media in order for the discs to play in something else besides the camera that created it.  Finalizing a disc is the process of writing out support data such as DVD menus, a directory in order to make the Mini DVD playable elsewhere. Finalization usually means that the disc cannot have any additional data written to it.  Anyway, if it hasn't been finalized we will need your camera (or maybe someone else's camera) to finalize each disc for you.
We will rip the files from your Mini DVD and put them on the computer.  Ripping a disc sounds violent and destructive but it is neither.  Ripping a disc copies the content of a DVD to a hard disk drive so that it will be in a usable file type for editing or viewing on a computer.  Then we can give you these files on an external hard drive or can burn 4 or more mini DVDs to one full sized DVD.  Most Mini DVDs are 30 minutes long.  Some are double sided so they hold up to 1 hour.
Comments Off

on Transfer mini DVD to full sized DVD or digital files
---
Yes, audio can be recorded on a spool of thin steel wire.
The first wire recorder was invented in 1898. They saw limited use mostly in the 1920s and 1930s.  The wire recorder was the first to use magnetic recording technology.  The recording head would magnetize each point along the wire according to the intensity and polarity of the electrical audio signal.  When the wire is later played it would produce sound according to the variable magnetic wire pulled through the audio head.  This is truly a baffling process to witness.
The good news is that we have one of these old wire recorders which has been wired up with audio jacks so that we can capture the sound it produces and transfer it to mp3 files or playable audio CDs.
Comments Off

on Wire Audio Transfer
---
Leave A Legacy has acquired a bunch of new (old) equipment which enables us to transfer even more types of old media.  New for us is our own audio wire recorder, Digital S video tapes, Digital Beta CAM video and more.
At Leave A Legacy we work with a huge variety of video and disc types and formats.
Video Formats that we can play:
NTSC –format used in United States
PAL – format used in Europe (except for France), Australia
M-PAL –format used in Brazil, it will play on NTSC but it would be black and white
N-PAL – format used in Argentina, Paraguay and Uruguay but it should play on PAL and most Secam players
Secam – format used in France
MeSecam – stands for Middle Eastern Secam
Video Types that we can play:
Types of Discs we can access:
Bring it in or ship it to us and we will transfer it to DVD, digital files and do whatever edits you would like.
Leave A Legacy is here to help you preserve and share your memories.
Comments Off

on Leave A Legacy works with a huge variety of video and disc types and formats.
---
Come help us celebrate Leave A Legacy's 10 years in business with our first Home Movie Day on October 20 & 21, 2017
(10am-3pm). We will project at least one reel of your 8mm, super 8, and 16 mm films which .  Enjoy popcorn and old timey candy.  Come and share the memories.  We will also have viewing stations for VHS, VHSC, 8mm video, and miniDV video.  We will offer a 20% discount on all film or video orders brought during these two days.  See our flyer.
Comments Off

on Home Movie Day at Leave A Legacy, Inc. in Fort Collins
---
It started with my grandmother's photo album from her teenage days (1915-1916) until her marriage in 1917-
including her wedding pictures!    The photos were in such good condition for their age I wanted to find a way to preserve them and share them.  Leave A Legacy scanned the photos from the album, letters and my grandmother's confirmation and marriage certificates onto discs to share with siblings and cousins. I was so delighted to hear from my nephew and a young second cousin who were fascinated by the old cars, clothes and those somehow familiar faces. Oh, if only we had my grandmother to identify some of those people and places.
Both sides of my family were pioneers in a small Iowa town where descendants of family and their friends still reside. To see the old familiar faces and places on the computer screen is just so awesome but the lesson of listening to stories and identifying pictures while we can is most apparent!
Of course, these projects tend to snowball! My cousin and I asked Leave A Legacy to scan  and organize another generation of photo albums. These included my four uncles- brothers who served in WWII together along with my own Dad and other men in our families. What great pictures we've been able to share of wartime weddings and happy homecomings!
The project continued with albums of my own generation! All those video tapes and movie reels along with more photo albums were moved to CDs and DVDs – confirmations, graduations and weddings for future generations to enjoy.
Along the way, Leave A Legacy reprinted some long lost negatives from an album discovered in a barn and Leave A Legacy was able to restore some faded photos! How lucky to not only find the long forgotten album but to be able to preserve pictures I had never seen.
The next chapter in this project will be slides from my parents/grandparents – that will be CD # 3 to share. My aunt's 1950's movies of a European vacation Leave A Legacy transferred to DVDs was a bit of a bust- not due to Leave A Legacy's efforts – but my uncle had placed his camera on the dashboard of the car making most of the trip a dizzying adventure!
When my grandson, Ryan, announced his engagement to Hannah I began thinking of a way to welcome the bride to our family. I had thought so many times, in getting to know Hannah, how much my mother would have loved her and how my grandmothers and aunts would have been so proud of Ryan and Hannah's travels and accomplishments!  The idea of a Bride Book from all those wedding photos of long ago -those happy young women with their futures so bright – especially my grandmother who was married nearly 100 years ago – began with the help of the bride's family and the wedding pictures of my own relatives. I realized how the hopes and dreams of these young brides became the great grandmothers, grandmothers, mothers and aunts of my generation – forming the strong, independent women we are today! Who wouldn't enjoy celebrating them!
With the help of every family, Leave A Legacy was able to restore, enhance, and organize a beautiful book of 26 brides from both the bride and grooms' families. Some wedding photos nearly 100 years old in a studio with the groom, some lovely professional photos of the beautiful bride alone and some of the wartime photos were just snapshots!


Since the thought was a welcome to Hannah from the brides that molded all of our lives the book became very powerful for those of us who worked to gather photos.
What a thrill on her wedding day to share the book with Hannah!  But it was also emotional for me to see the reaction of the bride and grooms' grandmothers, mothers and aunts who were actually present at the wedding! I hadn't really expected their reaction but it was wonderful when Hannah's grandmother saw her own mother's wedding picture in the book!  The Bride Book brought many tears and hugs. The memories that were made that day we'll treasure.
So, we already have a new bride to add, Hannah's photo, of course, and another old
photo has been found!  Just what I dreamed – a book that can continue into the future!
Certainly, Ryan loves the bride book. He chose a photo from his past with Hannah and one of the groomsmen- a special photo of the camp they attended when they were children- a location that holds many wonderful memories for the three of them! Leave A Legacy was able to print and mount the photo as a thank you gift to a special groomsman.
These projects- especially the Bride Book- have been so meaningful to my family!  Not everyone is enjoying the old photos (another nephew told me he only liked seeing his aunts and uncles – people he knows the best). But those of us who are more interested in family history are communicating more, sharing stories and memories and working on new projects- perhaps that Groom Book or a military history of our own heroes!
Now that is a fascinating story!
Comments Off

on Lisa's fascinating story about family memories preserved and shared
---