Leave A Legacy, Inc. has an InFocus digital projector that you can rent out to help you project your video or slideshow at your event or meeting. This projector displays images from your computer or DVD player with one simple connection. It connects with either a USB or a 15 pin Computer VGA connection. Your rental includes a carrying case, all the necessary cables, extension cord and remote. Most clients find a blank wall to project on to but we also have some of the old style screens that you can borrow to project onto. Give us a call to make your reservation. We rent it on a per day basis but since we are closed on Sundays you aren't charged for that day.
Leave A Legacy, Inc. specializes in transferring your old media be it video tapes (VHS, VHSC, 8mm, Umatic, Beta, Betacam, Digi Beta, miniDV, foreign formatted videos and more), movie films (8mm, super 8 and 16mm), old audio (reel-to-reel, 8-track, cassette, mini-&micro-cassette and records). We turn them into DVDs, CDs and digital files on flash drives and external hard drives. We can also scan all kinds of images (photos, negatives, scrapbooks, posters news articles, and more) and give you jpg or pdf files of all of them or turn all of the digital images into a digital or DVD slideshow.
With this projector you will be able to share your memories with family, friends, colleagues and clients all on a big screen….or big wall for that matter. With your computer or other video player you will be able to share at all sorts of events like weddings, funerals, anniversary parties, graduations, business meetings and reunions.
Comments Off

on Digital Projector Rental
---
Do you get an error message that says your computer won't play your video file? Is it asking for a codec to play your video and you have no idea what a codec is?!
We typically give our PC using clients mp2 or avi video files and we give our MAC clients mov or mg4 files. We have found that a change was made on Widows 10 computers that has them now preferring mg4 files. So the problem you have is that whatever file you got whether you are a PC or a MAC just isn't playing. Here is the solution:
You can download the VLC video app. It is simple, fast and powerful.
Plays everything – Files, Discs, Webcams, Devices and Streams.
Plays most codecs with no codec packs needed – MPEG-2, MPEG-4, H.264, MKV, WebM, WMV, MP3 and more.
Runs on all platforms – Windows, Linux, Mac OS X, Unix, iOS, Android and more.
Completely Free – no spyware, no ads and no user tracking
If you are trying to use Windows Media Player but get one of the following error messages:
Windows Media Player cannot play the file because the required video codec is not installed on your computer.
Windows Media Player cannot play, burn, rip, or sync the file because a required audio codec is not installed on your computer.
A codec is required to play this file. To determine if this codec is available to download from the Web, click Web Help.
Invalid File Format.
To resolve this problem, configure Windows Media Player to download codecs automatically. To do this, follow these steps in Windows Media Player 11:
On the Tools menu, click Options.
Click the Player tab, click to select the Download codecs automatically check box, and then click OK.
Try to play the file. If you are prompted to install the codec, click Install.
We hope that helped you out. Now you can bring in/ or send in all of your old analog media to Leave A Legacy and we'll transfer it all to digital files for you. And now all your video files should play on your computer of choice.
Comments Off

on Help! My computer won't play my video file!
---
We've been transferring videos and old movie films to DVDs for many years. It's an ongoing challenge to stay ahead of technology changes. Our latest problem that we have encountered is when I client called and said that our DVDs won't play in their computer.
We are used to the new computers that come out nowadays that don't have a DVD player installed. Come to find out this client's computer used the Windows 10 operating system and even though it actually had a DVD drive the computer company decided to not install any software on the computer to actually let discs play. It wasn't that our discs wouldn't play….no disc would play. It could only read data DVDs.
Now for the solution!
You can get a program from VLC, download it and then discs should work. It plays most multimedia files as well as DVDs, Audio CDs, VCDs,. Another software to try is Media Player Classic.
Let us know if we can help you out with any transfers from old media onto CDs, DVDs or give up on the disc and have us create digital files that you can play on your computer. Read about the debate between discs and digital files here.
Comments Off

on My computer won't play a DVD
---
Projects from around the country. We get a fair number of projects mailed into us usually to take advantage of some of the unique types of transfers we can do including Umatic video, BetaCam video, Zip, Jaz and floppy discs. So far this year we've completed project for clients from New Jersey, Washington, Pennsylvania, Virginia, Maryland and Oregon.
Tom brought in a variety of family photos and images from the internet. His family is encouraging him to write his life story and pulling together images of all his life influences is the first step. He is quite an animated gentleman and I'm sure his story would be full of lots of life wisdom and colorful family stories. Tom had us create two poster collages, one of his family and friend and another of other influences on his life so that he can be inspired by them as he writes his life story. Once he has it all written Leave A Legacy can help him finish it up with the layout, printing and binding.
Dick is a long term client of ours. He has been an
investigative and human interest journalist for many years and has been nominated for both the Pulitzer Prize and the Ernie Pyle Award. He now writes books about his stories and sells them on Amazon. We do all of the layout for the books for him and design the covers. We submit all of the files to his online publisher for him. Check out the many novels of Dick Burdette.
Sheri brought in a cassette for us to transfer to mp3. It was an interview with her grandfather on July 4, 1986 while on board the Satisfaction on the Hudson River near the Statue of liberty. He shares about when he immigrated into the U.S. Hear a bit of the interview here.
Photo restoration example. When we restore photos we scan in the original (we can even scan through the glass if it is framed or stuck to the glass). Then we do the restoration work on the computer and then send you a proof to see if it looks how you want it to. Below is an example of a restoration of one of those large group of military photos. This one is from the U.S. Naval Training Center in Idaho in 1944.
Comments Off

on Inspiration from client projects
---
This past month we've done lots of memorial slideshows. For most of the slideshow we do for clients, we display one photo at a time. This past month we had 2 clients who desired having several photos up at once. One client was very organized. She came in prior and worked on a plan with us. Ultimately she put all the photos that she wanted shown together in one ziplock bag with a sequential number on it. Sometimes she had digital photos that we needed to mix in and they numbered all the photos just like they numbered the bags. All very organized. Another client who was actually making a retirement party slideshow with several images up at once (photos, news articles and captions). She sent more photos and more captions every step of the way with lots of moving around of the images. This was the other extreme of organization. Both clients ended up with their unique slideshows on time and with all the creativity they desired.
We had two clients this past month who have sisters who are gravely ill. Jane collected a bunch of photo of their fun times together, wrote up some narration to go along with it and then we created a special book for her to share with her sister on her visit later this week. The other client, Judy, asked her sister's friends and family to each shoot a short happy birthday greeting for her ailing sister's birthday next week. Everyone was so creative with their joyful message: poems, songs, greetings from around the country. We pulled the videos and the still images all together for her into one DVD and one digital file. This sister is sure to be smiling and rolling with laughter once she witnesses it.
Tom brought in his star images to print. While another Tom brought in slides that were more "down to earth" field slides.
Photo restoration for….yet another Tom coincidentally…. You can see that we made two new versions of the photo for him. We can keep just one person from a photo, take someone out o
f your photo or cut you out of one photo and
put you
in another.
Comments Off

on Creative slideshows, final memories and projects by Toms
---
Notable relative:  Marcia came in with a fun story about her photo.  Her relative, Florence Chauncey, was the first woman to vote in a New York election once it became legal.  The wife of a local minister, she cast her vote in the morning at 6:10 a.m. on Jan. 5, 1918. Marcia brought in her collection of photos of her notable relative and had us digitize them and make reprints for her.  You can read more about her in this article.
Buckaroo Renew:  Enjoy this seeing this young man's youth restored.  Billie's dad never looked so cute.
Fun film clips of man's best friend:  I pulled in a handful of film clips from several old 8mm and 16mm films that we have transferred that all have clips of our favorite companion….dogs.  The whole segment is just 2 minutes long is sure to make you smile
Aileen amazing history: Aileen came in recently to have a record transferred to both a playable CD and also to mp3 files.  The record was of her uncle, Louis Paparello , in his Mandolin Orchestra.  Click the play symbol to hear a sample.
She also shared about some books she has written. According To Aileen: America's Ten Decades That Changed The World. A memoir of the disadvantaged immigrant: dedicated to ethnic, racial, and female equality who influenced the progress of America's greatest one hundred years. Her second book is a pleasant read of moments filled with characters that embody the good, the bad, and the evil in today's new world of uncertain living. Check out her site to read more of this fascinating client of ours.
.
Comments Off

on Interesting Projects to Inspire
---
Janet & Bruce brought in an old audio cassette that is a recording of their now deceased bird the beloved Mr. Tweet talking and singing.  He died several years ago and since then the got a new parakeet and named him Blue.  Mr. Tweet was quite a talker while Blue is pretty quiet.  The got out the cassette and played it for Blue and believe it or not Mr. Tweet has taught Blue how to talk.  Blue is sure that Mr. Tweet is the handsome gentleman bird that he sees in his mirror.  Janet and Bruce thought it was time to transfer the cassette to disc before it became unplayable. We are titling the disc "Mr. Tweet's Legacy" for that is what it is.  He can tell his story to generations of birds to come and share his personality, point of view on life and his vocabulary.  What a wonderful, heartwarming Legacy story.
Brenda brought in an audio cassette as well.  This one contained the voices of her two young daughters and a niece.  Many years ago there was a business called "Music, music, music" set up in the mall that was a mini recording studio. You could make a "professional" recording of children or adults singing.  She described that the music was piped in and each of the girls wore some large headphones while singing into the microphone.  They recorded "From A Distance" on one side of the cassette and "Everything I Do…" on the other side.  She brought it in to us so that the now adult girls, and mothers in their own right, could hear their sweet songs of innocence.
Brian brought in some reel-to-reel recordings that his parents made in 1968. They were audio "letters" to each other during the Vietnam War.  He had others that he wasn't sure what was on them.  We will call him once we get them on the player and let him know what they contain.
2016 & 2017 Memories Chronicled. Dusk has brought in all the photos and videos from all of her media sources. This includes both her husband's and her own phone files and a digital video camera.  We are pulling each year's worth of media and putting them in order on DVDs for her to preserve all the memories from.
Whomever's Legacy you want to preserve, know that Leave A Legacy has the creativity, know-how and equipment to accomplish it.
Comments Off

on Mr. Tweet's Legacy
---
We've had many more amazing projects come through our door. Let them inspire you to preserve your own memories and share them with the rest of your family this holiday season. 
1)Prisoner of war journal: I met with Scott who brought in his grandfather's handwritten and beautifully illustrated journal that he wrote in 1942-1944 while he was a POW in Germany during WWII.  His story is fascinating.  We are carefullyscanning each page and then we are going to make several duplicate copies.  He will put the original in a safety deposit box and will no longer have to worry about it being damaged further.  Extra copies of the book will be shared with other family members.  This is an example of following what we believe…that not just one person should be the keeper of all the family memories.
2)Not splitting up the photos:  Michelle has gone through a divorce and didn't want to split up the photos between her and her husband.  She is having us scan all of her photo albums, oversized photos and loose photos.  She'll give a copy to her ex, her three son's and her parents.  Through doing this Michelle was able to make sure that her ex-husband and she could separate their lives but each keep identical copies of all of the memories.
3)Not splitting up the photos and making books:  Kay's mother recently passed away and she told her siblings she knew
where to take all of the family photos.  We scanned over 1,000 photos from 9 albums. We now have instructions to layout all the photos into one book and to print and bind 8 copies.  Then each brother, sister, aunt and uncle can keep a copy of mom's family memories and they won't have to split them up.
4)Family Film Files and DVDs:  Stacy brought in her collection of family films for us to transfer.  She decided to have us transfer it in high definition.  We could either give her digital files of each film on her external hard drive or we can burn all of the captured footage to Blue-ray discs and DVDs.  She decided to get both….DVDs to watch with family over the holidays and digital files for editing and storage down the road.
5)Nixon's address on radio:  This cool historic audio came to us on 8-track.We had to repair the foil splices on two of them because age had made them brittle. Then we transferred the audio onto playable CDs.  The 8-tracks were recordings from the radio in the 70's and contained President Nixon's address to the nation to tell what happened in the Watergate scandal.
Memories make priceless gifts…..do you have memories that you'd like us to help you preserve and share with your entire family?
Why do we do this? It's our mission….to help you tell your story by converting it so you can share it.
Comments Off

on Inspiration from amazing projects that have come in
---
This was a photo taken during a photo shoot at a wedding.  They wanted  a cropped version that didn't have the gentleman at he left included.
These next two photos were restored beautifully with lots of detail and sharpness that you couldn't see in the faded original photo.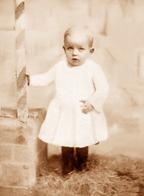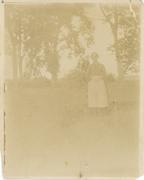 This beautiful photo had lots of detail.  they had us scan it at a high resolution and then zoom in on her rings and her necklace.
Comments Off

on Photo Restoration Examples
---
When John was 15 years old a massive earthquake hit Yellowstone National Park.  He and his parents were sleeping
in this cabin when the Earthquake hit.  In the morning, his father gave him their family 35mm camera loaded with slide film and told him to go take pictures.
The earthquake caused a landslide blocking the river. When the lake rose behind the landslide, all the cabins floated off their foundations. As the lake rose, the prevailing winds blew them east (upstream). They moved about 1 1/2 miles before the lake topped the slide and began to cut a channel. When this happened, the lake dropped and the cabins settled where they were. The photo of him in front of the cabin was two months after the earthquake and shows their cabin off of its foundation.
The National Park Service produced a video (VHS) about the event and even lists John in the credits for some of the photos shown.  When he came in to Leave A Legacy wanted to update his media so that he could share his experience with a group meeting. He brought in slides and two VHS videos.  We ultimately combined the slides and the video on to a single playable DVD that he can project at his meeting and pause for as long as needed to tell his story.
Comments Off

on Owen's Backstory: 1959 Yellowstone Earthquake
---